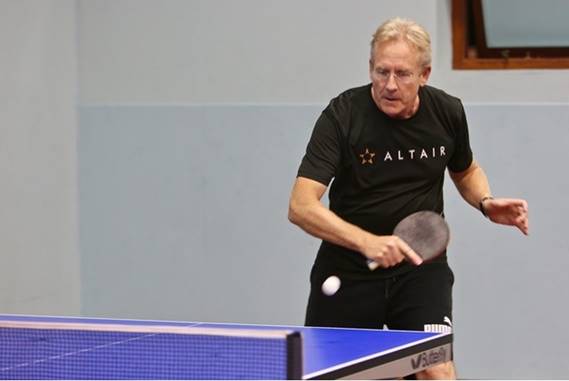 Altair Partners Victorious in Corporate Table Tennis League
THE 2019-20 PwC Corporate Table Tennis League had an exciting finish, with three teams going into the final set of matches with a possibility of taking the inaugural league title. Altair Partners. EFG Private Bank and Express Autos all had an opportunity of lifting the trophy on the final evening of matches. 
The Altair Team were consistent throughout the year, with their only loss in the season being a 5-0 defeat against fellow league challengers EFG Aces. This consistency was on show again when they won their final match of the season 5-0 against PwC Dodgeballs. The Altair Partners team was made up of Nick Watkins, Callum Renault, Nick Taylor, Przemyslaw Niemiec and Ian Lambert. EFG Aces clinched second place on the night with a 5-0 win against PwC Hot Shots. The EFG team consisted of Aslam Sheriff, Talha Nasir & Yan Parker. 
Express Autos also had a strong season and finished in third place. Their team of Raoul Harris, Derek Rogan and Eileen performed strongly all season.
The PwC Averages trophy was also hotly contested, with Raoul Harris winning the trophy with a 93% average, shading Talha Nasis to second place with 92%. Derek Rogan was pushed into third place with an 89% average. 
Three players - Aslam Sheriff (EFG Aces), Ryan Carver (Alter Domus) and Joe Harvey – managed to play all 38 matches this season, which was excellent commitment to the 19-week season and played to a high standard. 
The PwC Table Tennis Corporate League has shown that there are recreational players participating in Jersey that could compete at a higher level in the Jersey Table Tennis Association Leagues. 
Paul Routier, president of the JTTA, commented: "We are very grateful to PwC, our sponsor, and really pleased with the support from the business community for supporting out first PwC Corporate Table Tennis League. To have 20 new teams and over 100 players visiting the Geoff Reed Table Tennis Centre for the first time over 19 evenings was a great success.
"There was a wide range of abilities between the particpants and we have gained new members to the club on the back of this initiative.
"Table tennis is one of the sports that was booming during coronavirus lockdown, Sales of equipment, including tables, bats and balls, have seen a massive increase and we want to encourage this increased interest in the sport. We hope to build on the success of the league going forward.
Paul Silcock, director at PwC added: 'We really enjoyed supporting the JTTA initiative for the first Pwc Corporate Table Tennis League. We wanted to help support the league to increase the number of individuals keeping fit in a fun but competitive environment, while helping the JTTA to increase player participation in this ever-growing sport.' 
CONTACT
3 The Forum, 2nd Floor, Grenville Street, St Helier, Jersey JE2 4UF